MMIP Conference Works Toward Response Plan For Flathead Reservation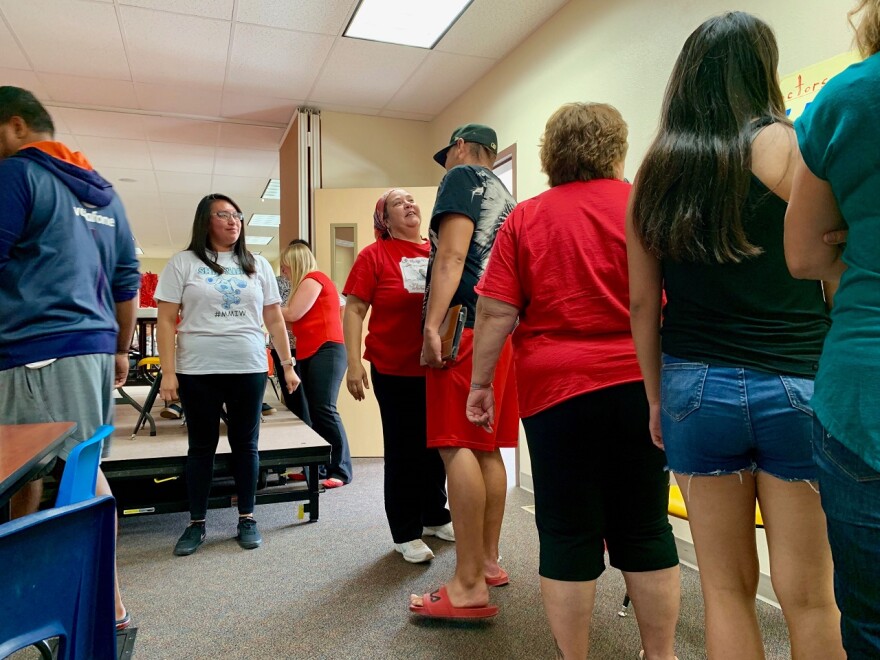 The Confederated Salish and Kootenai Tribes were exploring the link between human trafficking and missing and murdered indigenous people at a conference last week.
YPR News' Olivia Reingold was there. She shared her reporting with Nicky Ouellet.
Nicky Ouellet: This is the third and last day of the conference on Missing and Murdered Indigenous People, hosted at Salish Kootenai College on the Flathead Reservation. What have you learned about the scope of this issue?
Olivia Reingold: Well the day started off with some members of Missoula's Human Trafficking Task Force, including a police officer from the University of Montana, Shannon Parsons. And she told us some pretty surprising numbers, like that there were about 80,000 ads selling sex in Billings over an 18-month period and that Missoula, then Bozeman, came next in terms of the number of ads for sex. People also piped up and shared stories about victims they'd tried to help or about people they suspected were traffickers. There were over 50 people attending and the room was full of stories about how this had touched their community.
NO: The Tribes passed a resolution in January that committed the community towards putting together a response plan. My understanding is that this day was about pivoting towards an action plan. What did you hear from people about what they hoped to get out of the sessions on Thursday?
OR: The Flathead Reservation is majority white in parts, and some of their non-Native neighbors have been showing up this week. The minister of a local Lutheran church, Melanie Martin-Dent, came to learn how she could help in the community. She says she wants her church to be part of the action plan that they're brainstorming on Thursday.
"I'm really excited. Today we're going to be looking at what we can do to make a difference and developing our own action plan, hearing examples of what communities to plant seeds of ideas that we can use," Martin-Dent says.
OR: Some of those ideas came from Officer Parsons and the rest of the representatives from the Missoula Human Trafficking Task Force. They talked about their success with public awareness campaigns, like how they placed a series of ads on the university bus system about human trafficking with hotline numbers for help on it.
NO: So it sounds like participants were exposed to different solutions, but what were the problems you heard people talk about that they want to solve?
OR: I heard a lot of participants talk about a need for public awareness campaigns in the community, and one woman I spoke with, DeeAnn Richardson, says that could help people combat the myth that this is isn't happening here.
"In rural communities there's a sense of safety. You're not in the big city, and you've always let your kids come and go and not worried about them because it's safe. It's a small community that you've been brought up and raised in and everybody knows everybody," Richardson says.
OR: She directs the local non-profit Safe Harbor. It works with victims of domestic violence and as of about three-years ago, people who have been sex trafficked too. That's when she says she first started encountering trafficking victims in the community. So far there have only been a handful, but she says that's a sign of how hard it is for them to get away.
NO: Before people broke up into groups to work on the action plan, you heard from families who have lost or had loved ones go missing. What did they have to say?
OR: We heard from two women who lost their family members or aren't sure what happened to them yet. There was Malinda Harris Limberhand, whose daughter Hanna was murdered in 2013 and the bill "Hanna's Act" is named after and Shanae King, who's still looking for answers about the disappearance of her younger sister, Shacaih Harding. Both women talked about feeling sidelined by law enforcement. King says her sister used meth and that law enforcement sometimes didn't take her case seriously because of that and the fact that she's Native American.
"They were coming in like, well is she just running amuck, is she on drugs, she's probably just having a good time. That was a hard thing to face as a family member because she was missing in our eyes. It didn't matter that she was on drugs. It didn't matter that she was looking goofy on the streets one day. She was still missing," King says.
OR: King says there was a three-month stretch when she felt like no one was looking into her sister's case. And she thinks that's partially because of a bias against Native Americans and drug users.
NO: What did you hear from people about what can be done on this issue? What are some of the possible solutions people were talking about?
OR: There was a lot of discussion about a code. That basically refers to the statue that deems something as illegal. Right now, the Confederated Salish and Kootenai Tribes don't have a criminal code against human trafficking. Lillian Alverez says that's normal. She's a legal fellow at the ACLU of Montana, but spoke Thursday in her personal capacity. She says only a handful of tribes currently have human trafficking codes.
"If you don't have a human trafficking code, and you want to prosecute somebody, there's nothing to point to to say, 'this is the crime that I am prosecuting you for,'" Alvernaz says.
OR: That's the next step for the Tribes--developing that code. Alvernaz says it'll not only help put traffickers away, but also be an important exercise of tribal sovereignty.
NO: So what's next for the Tribes?
OR: I spoke with Tribal Council member Shelly Fyant, who says that there are a few things they plan to roll-out by the end of the year, including an educational campaign, and school visits. They're planning to launch a tip-line that won't be connected to law enforcement, so that people feel safe calling in possible instances of trafficking. The ultimate goal is developing that code for human trafficking. And that could get easier since Fyant says they'll have more help now. She says multiple people have approached her during the conference to ask to join the Tribes' work group on missing and murdered indigenous people.
NO: Thanks so much for sharing your reporting Olivia.
OR: Thanks Nicky.
Olivia Reingold is Yellowstone Public Radio's Report for America corps member.