Report Highlights Big Sky Mental Health Challenges, Proposes New Resources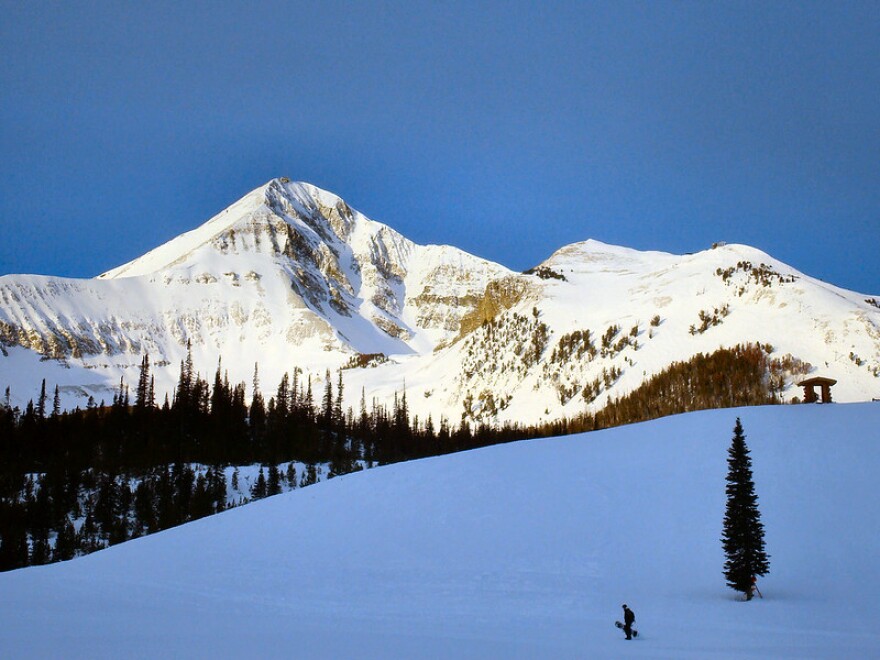 Like many ski resort communities across the American West, Big Sky has seen a rise in suicides and overdoses in the last five years. A new report looks at some of the underlying factors and makes recommendations to connect a fragmented system of care.
Calls to the Gallatin County Sheiff's Office involving suicide or threats of suicide in Big Sky more than tripled between 2016 and 2018.
"Big Sky by all measurements is an outlier in terms of need," says health care consultant and Big Sky resident Paul 'Buz' Davis.
Davis led a year long study to understand the resort community's behavioral health gaps and identify opportunities for improvement.
Davis says a combination of factors have led to higher mental health issues and substance misuse in Big Sky compared to other parts of the state.
One is social isolation. Since Big Sky has only been around since the 1970s, there isn't as much intergenerational connectivity or deep social cohesion. Davis says a lot of 20 and 30 year olds come out to Big Sky on their own to work for a season or two before relocating.
"They don't have a family support system around them. When they have problems, they're many times on their own. They're alone, and that creates in and of itself, a lot of challenges," Davis says.
Big Sky also has a high cost of living, which can create more stress as people try to pay their bills, a big wealth gap that can lead some people to feel invisible, and a culture of drug and alcohol use. People with substance abuse disorders are six times more likely to complete suicide than those without.
Some researchers have found altitude can also affect brain chemistry.
Davis says the 60 people interviewed in the study said the biggest need in Big Sky is better access to care. Currently, Big Sky doesn't have a licensed, full-time behavioral health professional. In comparison to other ski towns in Montana, Red Lodge has two licensed providers and Whitefish has 26.
The closest inpatient psychiatric treatment centers are in Billings and Helena. The only state operated acute inpatient substance use treatment facility is in Butte.
Davis says driving an hour or more one-way to meet a counselor in Bozeman is a challenge for people who can't take time off work or don't have many transportation options.
"There aren't a lot of after hours professionals in Bozeman that will see people from Big Sky," Davis says.
Davis says Big Sky needs four full time counselors to meet current demand. The report says providing housing subsidies, higher pay or even ski passes could draw them in.
He says another challenge is that a lot of people don't know what door to knock on when they need help.
The report's top recommendation is to create a new nonprofit that would serve as one point of contact to help people navigate their care and insurance options, reduce stigma through community wide campaigns and events, provide scholarships to people who need help covering their costs and recruit providers.
Davis says an organization near Vail, Colo. has seen success by doing something similar.
Building Hope Summit County's Executive Director Jennifer Hile McAtamney says previous community needs assessments showed that residents considered mental health and substance use disorders as a top priority. Building Hope was launched after several well known Summit County locals died by suicide in 2016.
"In 2018 when Building Hope had just started, we had 11 suicides. Last year, we had four. The difference between 2018 and 2019 was really the emergence of Building Hope as a really viable entity," McAtamney says.
McAtamney says county residents voted for a property tax in 2018 to fund Building Hope and other behavioral health care initiatives.
She says the organization's four navigators and scholarship program last year helped about 1,300 people get access to the appropriate level of care.
Building Hope also created a searchable online database of 45 local providers and more who offer remote tele-counseling.
"On that database you can see exactly who practices, what their specialties are, if they take insurance, if they're accepting patients, all their contact information, all that stuff. So becoming kind of an aggregator for the community around those resources has been really helpful because it's straightforward. People know to go to Building Hope," McAtamney says.
To help people feel connected to one another and learn about community resources, Building Hope hosts four to six events in the county each month, ranging from pumpkin carving to yoga.
McAtamney says it took a few years to get the nonprofit off the ground and stigma still remains a challenge.
Buz Davis says launching a similar non-profit in Big Sky would cost about $300,000 a year and could be supported through a mix of federal grants, donations and Big Sky's resort tax.
Ciara Wolfe, Executive Director of the Big Sky Community Organization and board member of the Big Sky resort tax, says the resort tax typically has some additional funding each year for special projects but this year that pool of money will be lower since COVID-19 caused ski resorts to close early. She says that the pool has been further drained to provide relief in the community.
Jason Smith, chief advancement officer for Bozeman Health, says leaders and donors in Big Sky have been incredibly generous in the past.
"I'm optimistic that even as we work our way through these COVID-19 challenges, that community's going to step up in the ways that it needs to, to provide the kinds of services and support that are essential through Big Sky Medical Center and all of our partner organizations," Smith says.