Montana Universities Plan For Fall Return Amid Pandemic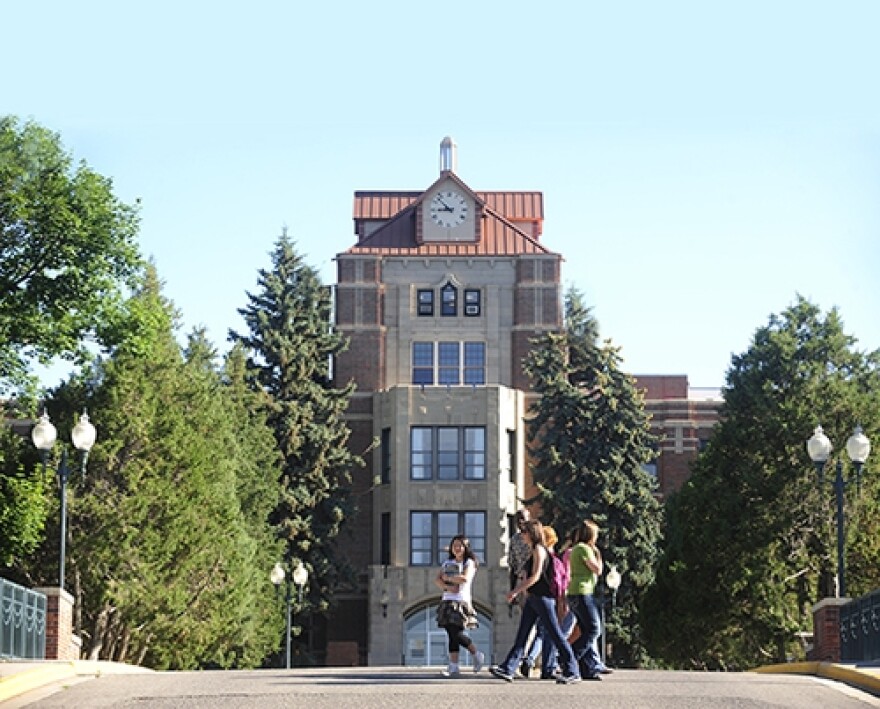 With the fall semester fast approaching, colleges and universities in Montana are preparing to offer a mix of in person, online and hybrid courses to keep students safe from COVID-19. YPR News' Jess Sheldahl reviewed state, tribal and private institutions' reopening plans and shares her reporting with Nicky Ouellet.
Nicky Ouellet: Thank you for sharing your reporting with us today.
Jess Sheldahl: I'm happy to.
NO: Most Montana universities sent students home halfway through spring semester as a precaution against the novel coronavirus. Now they say they can bring them on campus safely. How are they planning to do that?
JS: I looked into the reopening plans released by Montana State University (MSU) in Bozeman, the University of Montana (UM) in Missoula and Montana State University Billings (MSUB). They largely follow guidance put out by the Montana University System Healthy Fall 2020 Task Force, which includes the Commissioner of Higher Education and the Montana Department of Public Health and Human Services.
The plans say there will be increased cleaning and social distancing in the form of smaller classes with adjusted layouts and staggered schedules. They also strongly encourage hand washing.
The Montana University System released guidance specifically requiring masks for most people while on campus last Thursday, in line with the governor's state wide mask mandate announced the day before.
Entrances and exits to buildings including dorms will be limited and monitored using student ID cards. There will be a limit of two students per dorm room unless the student requests a single room.
I spoke with UM student government Vice President James Flanagan about how UM gathered student feedback about the fall semester through surveys.
"We've had over 1,000 student responses and I'm very happy and grateful for that. We've also had about over 130 students ask for ASUM to reach out to them to discuss their concerns. That is also really great to hear," Flanagan said.
Flanagan says he thinks UM has done a good job with communicating to students about guidelines.
Schools are also working on health monitoring, testing and contact tracing for staff, students and faculty.
MSU has testing available on campus and has also partnered with Bozeman health providers to provide testing. MSUB is working with Riverstone Health, Yellowstone County's health department, to test and contact trace. UM says they are developing the capacity to test students on campus or they will partner with a local hospital for testing.
NO: So a lot of the same guidance we're hearing from the Centers for Disease Control and Prevention. What happens if a student, staff or faculty member tests positive for COVID-19?
JS: UM actually announced on July 16 Curry Health Center reported multiple cases of COVID-19 students. According to reporting from the Montana Kaimin the Missoula County Health Department will perform contact tracing and ask close contacts to self isolate and get tested. UM says it has isolated the positive cases.
Other universities plan to follow those same steps. They'll quarantine the positive case while local health departments do contact tracing.
OCHE (Office of the Commissioner of Higher Education) required universities to have a plan for quarantining students who live on campus, so each plan outlines where COVID-positive students would isolate.
One interesting effort on the testing front comes from MSU where they have been collaborating with the city and county health department to monitor municipal wastewater for coronavirus levels since May.
NO: What about if coronavirus cases continue to rise and the state goes back to a stay-at-home order?
JS: Universities say in their plans that professors should be ready to switch from in person instruction to online learning with very short notice. Part of the reason why the schools are offering a blend of in person, online and hybrid, meaning part online and part in person, classes, is they say it will make it easier if Montana does reimplement a stay at home order.
MSUB said because their in person classes already had online elements, the transition to remote learning in the spring was actually fairly easy for them. Here's Melinda Arnold, Provost and Vice Chancellor for Academic Affairs at MSUB
"Whatever was listed online when we opened registration which was back in February for fall, remains so. The only thing that's really changed is that our face to face classes will have a hybrid component. So should the eventuality occur that we have to switch to all online again the transition would be easier," Arnold said.
However, the online plans are light on details about what would happen in this scenario past moving classes online. MSUB says international students and others living in the dorms will be allowed to stay, but MSU and UM don't clearly outline what will happen if a stay-at-home order is implemented.
NO: How are private colleges planning for the fall semester?
JS: Rocky Mountain College in Billings and Carroll College in Helena plan on returning to in person instruction. They say that because their class sizes are already fairly small, implementing social distancing in classrooms should be straightforward.
Rocky Mountain College has changed some of their classes to be partially online to reduce on campus traffic. They are also allowing some teachers who aren't able to give in person instruction to work remotely.
Carroll College's plan outlines specific guidelines that correspond with which phase of reopening Montana is in. For Phase 2 they are increasing cleaning and asking faculty and staff to fill out self health screening questionnaires daily. Residence halls will be open with limited access, so no visitors.
NO: What about tribal colleges? Most tribal governments have implemented health orders within reservation boundaries. How are those orders affecting higher education?
JS: The majority of Montana's seven tribal colleges are planning on trying in person instruction, although most say their plans are not final and might change as more cases are reported. The exception being Little Big Horn College on the Crow Reservation where Chairman A.J. Not Afraid announced on July 16 their stay-at-home order has been extended until the end of August.
Tribal colleges also have smaller class sizes so social distancing should be a little easier for them to implement. Some will limit the number of entrances to campus buildings and do temperature screenings.
A concern I heard from a few different tribal college presidents is some students don't have access to technology or a good internet connection, so remote learning isn't the best option for them.
NO: And of course we'd be remiss not to mention one of the biggest changes is that school starts early this year.
JS: Yeah, classes at most state universities start between Aug. 17 and Aug. 19. Colleges will also start their fall semester in mid-to-late August, so everyone is moving the start date up.
NO: Thanks.
JS: Of course.