Resounds: Kirks' Grocery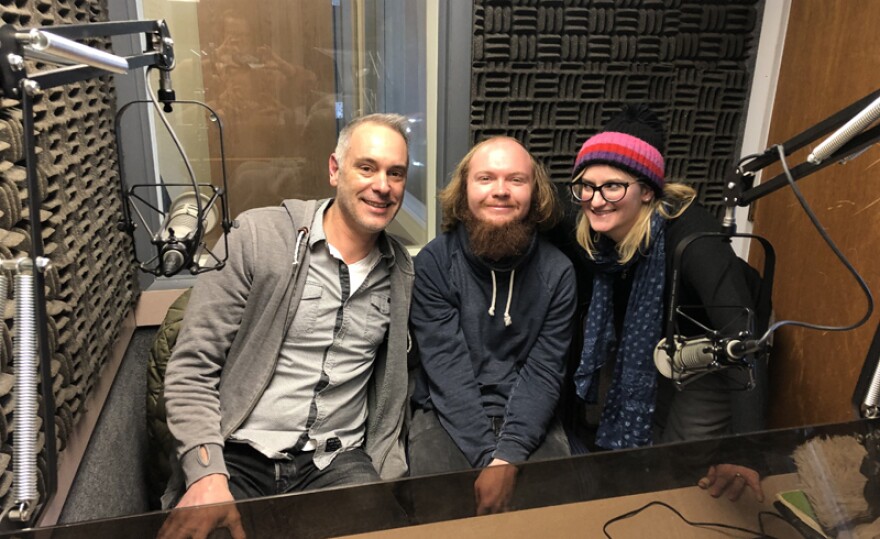 On this episode of Resounds, co-hosts Anna Paige and Corby Skinner hear from Shane de Leon, a songwriter, performer, and improvisation artist living in Billings, Montana. He's performed over 1,500 concerts in 20 countries and nearly all the states. De Leon is also the founder of Kirks' Grocery, an inclusive space on Minnesota Avenue in Billings for creativity and communication. De Leon is joined by artist Keera Rhoades and musician Ty Herman for the interview.
Though it has been mistaken for a grocery store, Kirks' Grocery offers up different kinds of nutrients. The inclusive art gallery and performance space was named for the building, which was named after its original operators, who were grocers in the late 1900s.
Kirks' exists for the common good, owner and operator Shane De Leon likes to say, and that tagline is lived at Kirks' where creativity is celebrated at all ages. It's not uncommon to attend an art opening or a concert where the ages range from 15 to 90.
On display at Kirks' through March 2020, Reckless features works created and curated by MIXX, a local art collective, and their interpretation of the word, reckless. The theme embodies a sense of freedom to examine new ways of making art, and encourages the artists to be inventive to try new things.
The variety of work shown encompasses many different materials including hand stitched found photographs, oscillating sheets of paper, sculptures made with sawdust, sponges, and avian biographies.
During the exhibition dates, the MIXX artists will be participating in weekly Wednesdays With events at Kirks' Grocery every Wednesday from 7 to 9 pm.
MIXX is a group of regional artists that first exhibited together in 2007, including three Montana State University Billings art faculty members: Mark Earnhart, assistant professor; Jodi Lightner, associate professor; and Keeara Rhoades, assistant professor. Other featured artists include: Jane Waggoner Deschner, Lillie Grace, Tracy Linder, Jon Lodge, Gordon McConnell, Neltje, and Patrick Smith.
Keeara Rhoades was born and raised on the Wyoming side of the Black Hills. She is curious and devoted to meaning-making. She spends her time constructing, deconstructing, and reconstructing. Her practice is a perpetual cycle "grounded in Nonsense in pursuit of logic." Her artworks have been exhibited nationally and internationally, with productions in Italy, Spain, and China. Living and working as an exhibiting artist in Seattle for over a decade, Keeara enjoys collaborating with artists, producing films, writing scripts and songs, playing drums, and performing. She relocated to Billings, Montana Summer of 2017, accepting a tenure track position as Assistant Professor in New Media / Photography at Montana State University Billings.
Ty Herman is a renegade. He's a local guitarist and singer/songwriter, playing in five bands around town including Bill Moved Away, Miss Massive Snowflake, Ex-Cat, Maddie Alpert and the Nice Boy, and Trainride Meatsweats. Active in community events as an organizer including MINT and Julia Louis-Dreyfest, and is a musician for hire, gigging at venues and resturants around town.